Posted by Paddlerscove on 9th Nov 2014
Just in time for the holiday season, one of the most hotly anticipated fishing kayaks ever is about to hit the market!
The release of the Old Town Predator XL, originally scheduled for late October or early November, was a bit delayed this year, but it's set to become available early December —and there's no question that this boat's well worth the wait.
At ICAST 2014, the Predator XL was lavishly celebrated: The kayak took both "Best New Boat" and "Best of Show" awards. One look at its impressive design and accessories, and you'll understand why.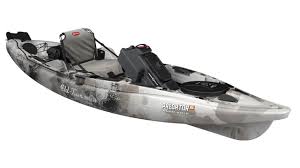 As we wrote about last summer, the Predator XL has basically advanced fishing-'yak evolution by leaps and bounds. With this 13-foot, 92-lb. craft, you have no fewer than three different cockpit consoles you can easily swap in and out to get the most from your kayak that you possibly can.
Most groundbreaking of these swappable devices is the Minn-Kota Console, which equips the Predator XL with a saltwater-grade, variable-speed trolling motor with 45 pounds of thrust. Coupled with the foot-operated rudder (available in the Predator MK Hull model), the Minn-Kota configuration allows hands-free control of the 'yak so you can devote yourself more fully to precise casting.
The other Predator XL consoles are the Utility Console, which can accommodate your complete sonar system, and the Exo-Ridge Console, which sits flush in the deck to facilitate big-game fishing.
Consoles aside, there are plenty of other excellent features of the Predator XL that make it a truly standout angling 'yak, including six removable and customizable mounting plates, a snug-sealing bow hatch, and the fully adjustable Element Seating System, which include "travel," "attack," and "stand-up" positions.
In short, the Old Town Predator XL is a comprehensive fishing machine like paddlers have never seen before. Circle that Dec. 1 release date on your calendars: It's marking the dawn of a whole new age of kayak fishing!