Dress for Paddling
It is important to dress appropriately for water sports, this changes based on the weather. The clothing you choose will make the difference in providing safety, warmth and comfort for the day or feeling miserable and cold. Below we listed explanations and our recommendations as to what you should wear while on your kayaking adventure.


---

Layering
The technique of wearing multiple layers helps to maintain a balance between the heat from your body and the heat that can be lost to the outside environment.
Layering garments such as shirts, shorts and pants are made of material designed specifically for paddlers that are of breathable fabric that wick away moisture. These can be used in the summer because they are quick to dry or as your first layer under your outerwear for cooler temperatures.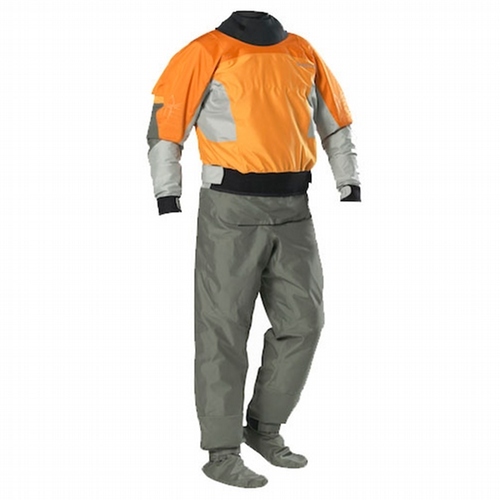 Check out our Selection of Layering Apparel
---

Outerwear
There are several outerwear options to choose from to avoid getting wet and cold when paddling. These are based on the conditions you will be paddling in.

Splash wear is made of water-resistant, breathable material that will help keep you cool. You can also wear splash wear all year round to keep you dry and protected from splashing water. Splash wear is a great option for either recreational or sea kayakers for cold water protection in warmer weather.

Splash wear does not have the rubber latex neck and wrist gaskets that are found in the "Dry Gear" clothes below so they are not completely waterproof. However, this makes them breath better and cool easier.

Check out our Selection of Outerwear
---

Dry Gear
You should wear dry gear paddling when in cold water. Dry gear has gaskets for the neck and wrist that form a watertight seal to keep you, the paddler, completely dry. They are made of materials that are breathable and yet do not let moisture in. This high tech material is more expensive but necessary if you're out in cooler weather. Options include dry tops, dry pants, or a full dry suit.

Check out our Selection of Dry Gear
---

Neoprene Wetsuits
Neoprene wetsuits can be worn as a single layer of protection. Neoprene is built to keep your core body warm. They can also make a great under layer paired with a piece of splash wear.

Check out our Selection of Wetsuits
---

Head and Hands

A lot of your heat dissipates from your head and hands, simply because they're not as clothed as the rest of your body. Stop this heat loss with this gear:



Head Heaters

: Keep your head and body warmer by wearing one of these!



Gloves

: Keep your hands dry from the water and protect them from the weather and the wear and tear from paddling all day.

---

Footwear

Stop kayaking with those soggy sneakers and get something to keep your feet dry and protected out in the water.

Neoprene Booties: These shoes were essentially made for the water. They're constructed with special soles and comfortable padding to make your kayaking experience even more pleasurable. These booties will keep your feet warm, dry and happy in almost any paddling condition.

Neoprene Socks: These socks are a guarentee for warm and toasty feet. It may seem excessive, but once you take a pair of these socks out kayaking, you will definitely be hooked. These padded socks will definitely make your paddling experience an enjoyable one (for your feet).