Posted by Paddlerscove on 2nd Feb 2015
Kayak fishing is one of the most exciting things you can do on the water! During the day, when the temperature is high and the sun is beating bright on the water, fish tend to stay deep down in the water where it's cooler. During the evening, however, they're more than happy to come closer to the surface-- making them much easier to catch!
There's also the benefit of being able to stay cool yourself, while avoiding the fishing crowd that can drive even more fish away from you. And kayaks are perfect for an evening expedition because they are much easier to navigate and are able to handle bouncing off a couple rocks better than a motorized boat. For all these reasons and more, night fishing on a kayak is an exhilarating experience.
The downside, of course, is that visibility is extremely limited during the evening. This is why it's critical to have a powerful safety light on your kayak. For your benefit, here's all the information you need to know about four of the most popular kayak fishing safety lights available today.
YakAttack VisiCarbon Pro Light - Scotty Mount
The Yak Attack VisiCarbon Pro Light has been designed to be the ultimate night time kayak light. Specifically, it has been designed to be light, portable, and have a very low drag. Included with the light is a base and pole to increase visibility.
Its light weight has been achieved by using a special carbon in the light and pole. Even with the required batteries (three AA), it weighs less than a pound. This makes it easy to put up, take down, transport, and store.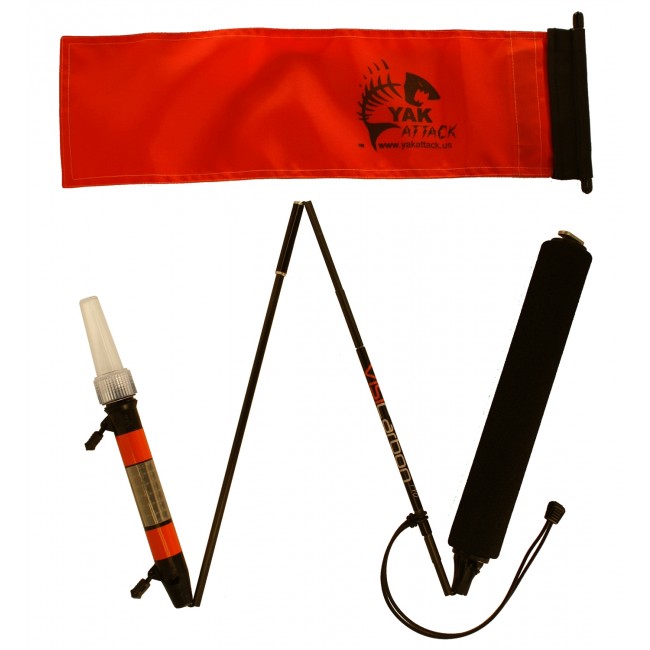 To make the pole even easier to store, it has been divided into four separate sections which fit together easily using a shock cord. Because of this, the pole can easily be folded and stored without any hassle.
Due to the carbon pole's slim design, the wind cannot catch it and slow you down. The flag itself is also designed to be aerodynamic, catching and socking air inside of it.
The actual light on the YakAttack VisiCarbon Pro Light is powerful. It's a battery-powered LED light, designed to be waterproof and shock-resistant. It provides over 100 hours of light using only three AA batteries.
The only downside of this model is that it's a bit more expensive than the other three options. Because it includes the base and pole, it's quite a deal. If you already have a base and pole to mount your light on, however, or you want to save a couple dollars, you may want to opt for a more cost-effective light.
The LuminaLED Utility Light is the most cost-effective option, but it doesn't skimp on the quality. There are a variety of bright, 360-degree lighting options. The light is resistant to water, shocks, and collisions, and it will float on water in case of emergency.
The light is produced by an impressive array of 16 separate LED lights. Half of these lights are amber, and half of them are white. You can switch between colors quickly depending on your preference, and you may choose between bright, dim, blinking, rotating, or distress. If you wish, you may even go with half-amber and half-white.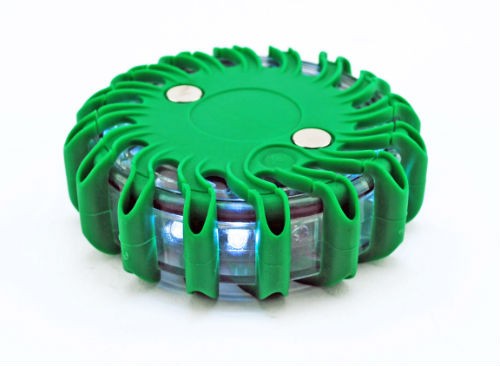 The light includes two sets of CR123 batteries, one to use immediately and one as a back-up. These batteries provide up to ten hours of use in blinking or dim mode, and about six hours of use in solid mode.
The light does not include a pole, but it does come with two magnetic discs that will mount to your kayak. You simply have to attach the included screws or 3M tape dots to your kayak and line the discs up. Because the unit is only nine ounces, it's extremely easy to mount, store, and carry.
The LuminaLED Utility Light does not include many bells and whistles, but it is a wonderfully functional kayak safety light, and a perfect choice for the night fisher on a budget.
Railblaza NaviLux 360 Degree LED Light
The Railblaza NaviLux 360 Degree LED Light is manufactured to meet the rigorous U.S. Coast Guard regulations. It will provide a strong, white light for over twenty hours on a single set of three AA batteries.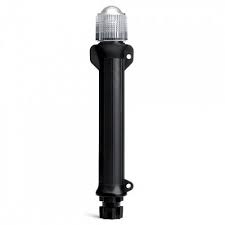 The light emitted is an extremely impressive 110 lumens. If you want to focus your light in a single direction, the light includes a directional shield that allows you to switch from 360 degrees to a more focused line of vision.
The Raliblaza NaviLux is also designed to be completely waterproof, in up to sixteen feet of water.
This is a powerful kayak safety light, but it does not include a base or mount. It will, however, fit into any RailBlaza base or pole, which will provide additional visibility. There are also additional accessories available, including orange safety flags.
As one of the most powerful safety lights on the market, the Railblaza NaviLux is an excellent choice for anybody who wants to hop on their kayak. The ability to concentrate light in a single direction and long battery life are extremely beneficial. If you want to mount it, however, there will be additional expenses, so if you're looking for an all-in-one solution in a single box, you might want to look elsewhere.
LuminaLED Utility Light - Rechargeable
The Rechargeable LuminaLED Utility Light offers all the same great features and benefits that the standard LuminaLED Utility Light does. This includes the variety of LED light modes, magnetic mounting discs, and durability. Likewise, it is waterproof and weighs only nine ounces.
It takes it a step further, however, by eliminating the need for batteries and replacing it with a charger. This also increases the use time a bit. On a full charge, the Rechargeable LuminaLED Utility Light will last up to ten hours on solid mode, and up to twelve hours on flashing mode. This makes it more environmentally friendly, and much cheaper over the long-run since you won't have to constantly purchase and replace batteries.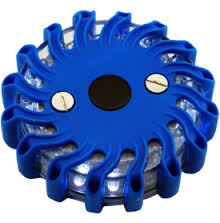 This may pose a problem, however, if you take long trips without the ability to charge between uses, such as if you go camping. If you're worried about getting stranded and not having the ability to change batteries, you may want to opt for the standard version, but otherwise this unit will be a much wiser investment in the long-run.
Between these four kayak safety lights, there's something for everybody. It doesn't matter if you're looking for a top of the line unit with everything included, something basic that you can use a couple times a year, something highly customizable, or something in-between. One of these four lights will be the perfect one for you!
Now get out there on your kayak, attach your safety light, and start fishing. Make sure to let us know when you catch the big one!