Posted by Paddlerscove on 20th Nov 2014
Heading to the keys for some kayak fishing is a great experience and one that is appreciated this time of year.

Imagine gliding along the calm water less than 200 yards off the beach in Islamorada, in the Florida Keys, when two massive, torpedo-like shapes passed beneath you.

Sounds unlikely but Wahoo, Barracuda and other large game fish troll the shallows around the islands in the Keys looking for bait fish on a regular basis.

In the Keys, you can actually catch Barracuda from the shore. Landing a dozen of them in just a few short hours is common.

Now, let's take a Kayak fishing in the Keys and give our self another advantage. Out on the open water in a stealthy Old Town Predator kayak MK, you have silence on your side. Your paddle hardly makes a sound or your trolling motor barely turning, moving you so slightly, sneaking up on unsuspecting Wahoo and Barracuda fish with ease. Picture yourself, hands behind head, legs crossed, fishing rod in there holders, sun in your face.
Since there are so many fishing holes, and areas to fish, you do not have to paddle or troll far to find big fish.
If this sounds like a lot fun, all you need is transportation, Old Town Predator Mk or your favorite fishing kayak, and lodging, plus the right gear for your kayak.
Necessary Gear for Ocean Kayak Fishing
What does it take to kayak fish around the Keys successfully? You will the essentials like a rod holder, or some kind of device to hold your pole in place while you paddle or troll. I just used a Black Pak from Yak Attack on the back of my kayak and it worked fine. I loved to have a dedicated rod-holding device to stow the rod fast and without it sliding around.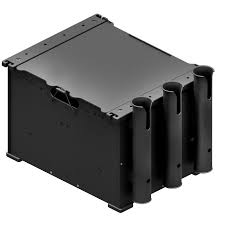 The rod holders you pick also will work for trolling. Just set it at an angle and set the rod in and start paddling or trolling.
The most important item to have is a anchor. You absolutely cannot go kayak fishing in the ocean without some type of kayak anchor device.
You need an anchor to hold you in place when battling larger ocean fish like Wahoo or Barracuda or you will be towed around for hours. You could be towed all around the Keys, half way to Miami.
Types of Kayak Anchors for Fishing Saltwater
There's several types of kayak anchors available. The grappling anchor
is one of the types of kayak anchors for fishing in saltwater and areas like the Florida Keys because of the structure of the bottom.
The grapple anchor will catch on rocks, and it will work in the sand as well. In muddy bottom it will hold you in place fairly well, but you may need to drag it a way before it catches. It's also collapsible so it stows away neatly. Space is a premium on a kayak.
The traditional v-shaped, Bruce anchor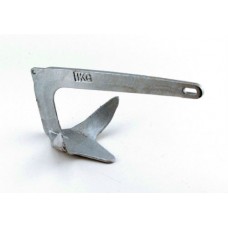 is a better choice if you are fishing mainly in muddy, sandy or flat bottom areas like the deeper flats, or just off the beaches. This is ideal for fishing for Striped Bass in the Atlantic around Cape Cod, for example. In deeper flats, the Yak stick mud anchor is perfect for Kayak fishing.
One of these would have come in real handy in some areas of the Florida Keys. Trying to catch an anchor in shallow water really doesn't work very well because of the angle of the anchor line. You will also find yourself pulling up the anchor several times in shallow water because you will most likely be chasing fish farther.
In deeper water (between 50 and 100 feet) you should opt for the drift anchor instead of the grapple or Bruce. This anchor is a bag that slows your speed by creating drag. You simply put it over the side and tie it off, then you can fight your fish with being pulled as far.
Anchoring Up Your Kayak for Fishing
Anchoring the kayak also takes a little patience and skill. Once you get the hang of anchoring right, it becomes second nature.
First, drop the anchor well down current (or downwind, which ever is stronger) of your target, then once it hits the bottom drag it until it catches. Then tie it off so the boat stays in the position you want. Either tie the anchor line to a cleat on the side, or to another object in the front or back.
Tying off the anchor in a kayak is a challenge, so I recommend getting an anchor trolley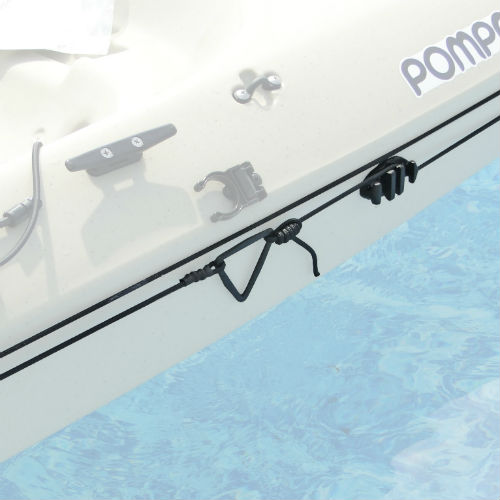 . You can buy anchor trolley kits that help you fasten the anchor line to the kayak in the best possible manner, regardless of the current and wind.
The trolley carries the line in the right position so you can actually drop your anchor as soon as you see fish and get right on top of them. You do not have to sit and judge the current or wind direction before you set the anchor in the water.
You will be able to take advantage of any sighting of jumping fish and it saves you time and energy. Messing with the anchor line during a feeding frenzy is definitely no fun!
Anchor trolleys come with pulleys, and their action lets you steer into the current, so the ride is much smoother, and with an included cleat and zig-zag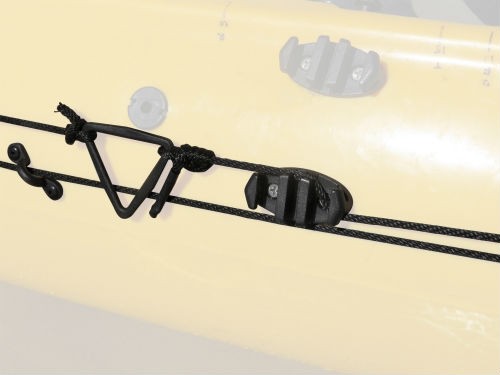 your boat stays stable in the water. That's really important when you are trying to cast, or bring in a fish.
Some anchor trolleys don't use pulleys. They are simpler to use and also very efficient. The great thing about them is the trolley works with any type of anchor: drift anchors, grapples, or sand anchors.
More Useful Kayak Gear and Tips
Along with your anchor you want to have a few more things. An anchor float will keep your line from snagging on boulders and can save you the hassle of trying to free the line. Some anchors include the float, this is a great option.
You'll also want a GPS to mark your spots and find new ones. Find one that is compact, waterproof and can download plenty of fishing maps.
Most kayaks have plenty of storage, so don't be afraid of taking along several stacks of lures. I like to keep my lures organized for the type of fish I am after. If I am on the east coast, I want a selection of striper lures, then some bottom lures and finally a case filled with bluefish lures.
The most essential item is the paddle. A collapsible paddle made of lightweight steel and plastic or full fiberglass paddles are great. The latter is lighter but they won't handle as much strain.
Of course, you need a life preserver. One that fits around your chest like a vest is the best option for kayakers.
Take a Seat and Get Comfortable in a Kayak
If You happen to be fishing in something else and not a predator with element seating .Another helpful piece of equipment is the comfortable kayak seat. This one will really save your behind, literally! If you plan to be out on the water for several hours, get a full padded seat. After about three hours your backside will become extremely sore if you do not have a padded seat.
If you already have a padded seat, consider a seat cushion to make longer trips even more comfortable. They have plenty of interesting options today for kayak seats from different shapes and sizes to cooler seats (they include a cooler under your seat). Having a cold drink out on the water is another necessity. But if you don't want to load a full cooler on your boat, stow a thermos or jug in the storage area and fill it with ice water. That will last hours!