Posted by Paddlerscove on 19th Feb 2015
Whether you're in the Pine Barons, close to the Delaware River, or down by the shore, New Jersey has some of the best river kayak fishing around. It's not surprising, then, that the Jackson Coose HD Kayak has us so excited here at PaddlersCove.
When you're looking around at the incredible variety of fishing kayaks for sale, it's hard to pick one. If you're trying to find the perfect river fishing kayak, though, we think that you've found your new best friend in the Jackson Coosa HD Kayak.
Professional kayak angler Drew Gregory is a world-renowned expert when it comes to fishing on rivers, streams, and any other type of moving water. In addition to his mastery of the craft of kayak fishing, Gregory has become associated with the incredible GoPro videos he takes of himself as he fishes.
With an amazing professional like Drew teaming up with Jackson Kayak, it's not hard to imagine why the HD is such a revolutionary river fishing kayak. Their previous collaboration, the Jackson Coosa, was hailed as one of the greatest moving water kayaks ever produced. Here's everything you need to know about their brand-new HD, and what makes it so special:
Brand New Design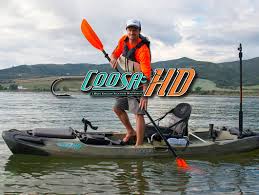 The original Coosa was an incredible kayak, but it was a bit on the smaller side and left a little to be desired when it came to performing on flat water.
The new HD has all the features you came to love about the Coosa, and has improved upon them with a brand new design. By making the hull a bit longer, and increasing the overall size of the kayak, Jackson has made the HD a more well-rounded fishing kayak.
The HD being a bit larger means that it has much better stability, along with greatly improved tracking. This means it handles better on flat water, making it a much more versatile fishing kayak.
Lovers of moving water kayak fishing shouldn't despair, though. The improved, elongated hull design makes the HD much faster than the Coosa was, meaning that it performs even better on moving water than its predecessor. Beyond that, the boat has been padded with all-new stealth padding, improving comfort and making sure you don't scare a single fish away.
HD Performance
Since Drew Gregory is well-known for his GoPro escapades, it isn't surprising that the new HD has a strong focus on compatibility with the latest and greatest fishing kayak accessories and technologies.
Looking around the kayak, you're sure to notice unique GoPro mounts positioned strategically around the vessel to make sure you're getting a great camera angle no matter what style you want to fish. You'll also notice that the HD includes a Boomstick! by Yak Attack, which is a long, GoPro-ready camera pole with a pivoting head.
Beyond the specific GoPro integration, the HD also integrates easily with sonar-powered fish finders. The removable Coosa Console includes room specifically for fish finders, making them easy to use and remove without getting in the way of your fishing.
Elite Seat 3.0
The Elite Seat 3.0 that comes installed on every single HD kayak is built for comfort and functionality that you'll be shocked a single seat can provide.
The seat is completely adjustable, which provides lots of performance enhancements. If you want to improve speed on flat water, all you need to do is move the seat forward. If you're looking to increase handling and balance on moving water, however, you simply move the seat backward.
Beyond forward and backward, you can also adjust the Elite Seat 3.0 Hi or Lo. Adjusting the seat to the Lo position provides better stability, but adjusting it to the Hi position will improve your vision and give you the option to stand quickly and quietly. If you need stability in one moment and vision the next, you can quickly adjust the seat on the fly.
Because a chair is made to sit on, Jackson has designed the seat to be ergonomic and incredibly comfortable. The mesh is state-of-the-art, and the back is rounded to a relaxed curve. There are convenient pockets for all your fishing kayak accessories, and a new strap system holds the chair in tight, providing maximum stability.
Best of all, the Elite Seat 3.0 is easily detached from the kayak, giving you an ergonomic, comfortable seat you can bring with you to the river bank or campsite.
Accessories
Finally, there are lots of accessories that come included with the HD kayak right out of the box. In addition to the mounts and Boomstick! we've already mentioned, there are accessories such as:
Buck Knives Splizzor tool that helps with removing hooks and changing lures.
Waterproof Plano tackle and storage cases that fit snug on the kayak.
Therm-A-Rest removable pillow with lumbar support that can be used while sitting in the Elite Seat 3.0 or as a pillow on land.
RAM Tube Jr and RAM 2007 rod holders.
Necessary attachments for the Power-Pole by Micro Anchor.
Offical Jackson Kayak Nalgene water bottle, safety flag, and decal.
It's easy to see why we believe that the Jackson Coosa HD Kayak is the best river fishing kayak money can buy. If you want to talk more about this amazing kayak, have some questions, or want to look into any other options, make sure to reach out to us by clicking here!