Posted by Paddlerscove on 11th Nov 2014
One of the fundamental decisions you'll make when trying to choose a fishing kayak is whether to go with a sit-on-top or a sit-in model.
The sit-in kayak is the traditional form. In this design—based on the boats used for millennia by Inuit, Aleut, and Yup'ik peoples of the Far North—the paddler occupies an enclosed cockpit. Sit-on-top kayaks are a much more recent invention. With these crafts, often described as modified surfboards, you simply sit on top of the sealed hull. Sit-on-top 'yaks have scupper holes to facilitate drainage of any water that gets into the cockpit.
Now—which one should you select? Both designs have their own virtues and drawbacks, which we'll explore below. Remember, you can find a full selection of both sit-in and sit-on-top fishing kayaks here at Paddlers Cove, and our friendly staff is always available to discuss the finer points of a given model.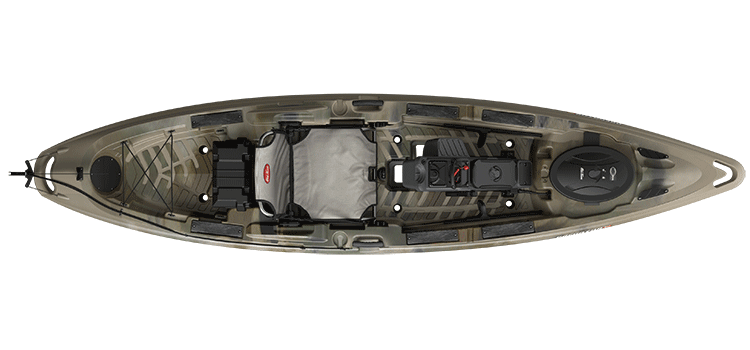 Many a kayak angler swears by the sit-on-top design, which has advanced significantly in recent decades partly to serve the fishing market.
One of the main attractions of the sit-on-top 'yak is the ease with which you can get in and out of it. If you're primarily fishing shallow flats, this is the kayak form for you: It's simple and straightforward to paddle between likely spots and slip into the water to cast while wading.
The quick exit afforded by a sit-on-top kayak also appeals to many paddlers uncomfortable with the more complicated self-rescue process of a sit-inside kayak. If your sit-on-top craft capsizes, you're simply dunked into the water. For kayak fishermen and any other paddlers, sit-on-top models are the perfect beginner's boats, not least because you don't need to master Eskimo rolls before taking them out on the open water.
It can be a challenge to actually capsize a sit-on-top kayak, though. These 'yaks tend to be broad-beamed and thus highly stable, a quality that also lends itself to angling. The wide deck makes a sturdy platform for casting and landing.
Sit-on-top kayaks also offer capacious, angler-friendly storage space that's very easy to access.
Customarily made of plastic, sit-on-top kayaks range widely in price depending on quality and features, but there are many affordable options. Again, this makes them an excellent choice for beginner paddlers who want to "test the waters": Once you've mastered basic paddling and boat handling, you can always explore the world of enclosed-cockpit paddling down the line.
These benefits of the sit-on-top kayak are significant, and the reason so many fishermen turn to this design. What about the limitations? Well, it's true that sit-on-tops are generally a bit slower and less maneuverable than sit-ins. That said, the kind of superior models we offer at Paddlers Cove are certainly responsive and efficient enough for many kayakers, and can even serve well on multi-day outings. Your average sit-on-top may weigh more than a sit-inside of comparable dimensions, but it's easy enough to wrangle them with trailers, car racks, trolleys, and other loading devices.
Some paddlers worry about being too exposed to the elements on a sit-on-top kayak, considering them purely a warm-water vessel. These boats don't offer the inherent protection from cold and wet that a sit-inside boat's enclosed cockpit and attached skirt do. Nevertheless, sit-on-top paddlers can still indulge in cold-weather and cold-water paddling with the right insulating gear, such as wetsuits and drysuits.
In short, today's sit-on-top kayaks are versatile enough to handle an impressively broad range of conditions and can fit the bill perfectly for all kinds of trips.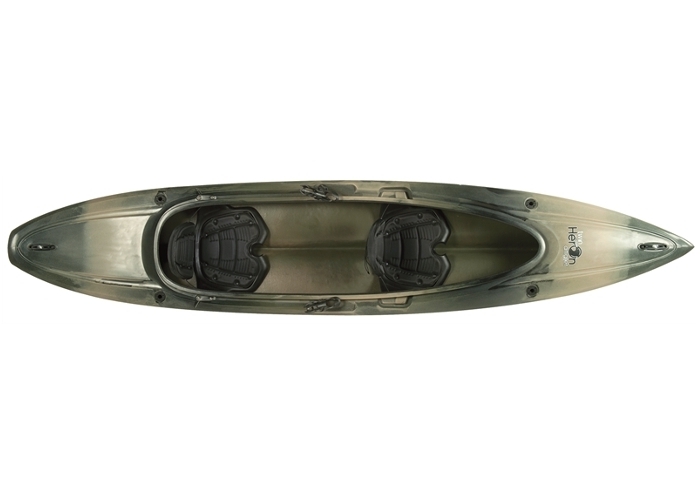 The above discussion has already highlighted some of the potential drawbacks of the sit-inside kayak, which for the fisherman mostly come down to the more involved procedure for entering and exiting the boat. It's not just the time and practice that go into perfecting self-rescue: It's the reduced flexibility you have in fishing situations where you want to alternate between sitting and standing or paddling and wading.
However, sit-in kayaks have plenty of devotees in the angling community. Serious paddlers favor the fine-tuned handling and unmatched speed the crafts offer. Adventurous anglers who want to tackle rough seas or extended voyages up and down coastlines usually turn to sit-in models, best exemplifying the unrivaled, age-old efficiency of the classic kayak (which—many would argue—has no equal in terms of a versatile, self-powered vessel).
Aside from plentiful storage space, sit-in kayaks also offer the distinct plus of protection. Tucked into an enclosed cockpit shielded by a skirt, you can boldly tackle cold or tempestuous waters.
The remarkable diversity of sit-in designs—from razor-like sea kayaks to the many varieties of recreational kayak—ensures there's a perfect boat for any setting. There's also the aesthetic attraction of sit-in construction material, which is more varied than that of sit-on-top kayaks and includes such perennial favorites as wood and fiberglass.
The Ultimate Criterion
Ultimately, whether you choose a sit-in or a sit-on-top fishing kayak comes down to your personal preference. Try out different boats and see which appeal to you. Bare specifications aside, what matters is how you feel in the kayak out on the water—how secure, how stable, how flexible, how comfortable. Some anglers value storage capacity over maneuverability; others want a lean-and-mean vessel that can get them anywhere their instincts lead.
Other Considerations
Whether it's a sit-on-top or a sit-in, a fishing kayak can offer all sorts of other finer-scale amenities. Other optional features you'll want to consider include outriggers, pedals for hands-free propulsion, and any number of deck-mounted accessories—from fish finders to anchors to lure bags.
Come on down to Paddlers Cove or give us a ring today, and we can help you in your decision-making process. There's nothing we like better than discussing the pros and cons of one kayak versus another, so we'll happily give you as much input as you desire. When it comes down to it, we want to see you in a fishing kayak that's going to do the job for you—each and every time!